Ultherapy – helping tighten and tone your Skin
Ultherapy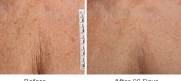 Ultherapy delivers focused ultrasound to regenerate deeper collagen production to the supportive tissue to remodel the matrix which helps lift and tighten the skin. Treatment areas include the face, neck and decollete area. Partner this treatment with needling for a complete spectrum collagen induction therapy.
This is a one time treatment and results can take between 3 – 6 months after initial treatment. Results last an average of 2 years with minimal or no downtime.
Pricing varies depending or areas of treatment.