Looking to set the clock back a few years?  Well now you have several treatments to choose from…
Ultherapy™ is the first and only FDA approved non-invasive device for structural tissue lifting.  FDA cleared for noninvasive lifting of the skin on the brow, neck and chin and chest.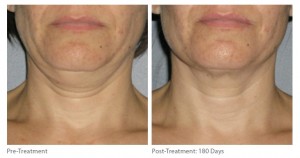 The treatment is usually done in a single session, but can also be divided into multiple treatment modules depending on your time and budget.  Because of the depth of treatment, the effects may take up to 5 or 6 months to realize, but they last for an average of 2 years!  Stop by our open house on Wednesday, June 29th for an onsite presentation and your very own comfort demonstration.
PDO THREADLIFTS…During the procedure, multi-strand threads are injected deep beneath the surface of the skin using thin acupuncture needles. Once placed, these threads act as a scaffold, lifting loose and sagging skin. It also stimulates the production of collagen, while providing a framework for the collagen to attach to, thereby creating the same effect as a surgical facelift.
As the threads are dissolvable, they will last for 4 – 6 months, but because your collagen production is constantly being stimulated, the lifting and smoothing effect of the treatment lasts for 2 – 3 years. In addition, the Miracu Threading relaxes your facial muscles, which means you get a similar effect to anti-wrinkle injections.  The treatment is relativel
y pain free, due to the deep insertion of the needles and working in the dermis of the skin.  Demonstration at our Summer Open House event this Wednesday, June 29th at 6:30 PM.
EXILIS ELITE is an FDA approved, non-surgical device that can help reduce fat in the face, neck or body, tighten the skin and improve the skin quality without downtime.  Tighten loose skin with this innovative radio frequency technology.  Exilis is a new opportunity to tighten up loose skin anywhere on the body – as well as the face. Since Exilis utilizes radio frequency, it is not a laser, making it an effective well-tolerated treatment with an exceptionally high safety factor.
Common Treatment Areas: eye area, around the mouth or chin, jaw line, Neck and décolleté, abdomen, back, arms, legs, knees,"Cankles".  Optimal results are achieved after four or six sessions with sessions generally 2 weeks apart.  Demonstrations held this Wednesday, June 29th at Moonstone Wellness Center.
Aging is not a single-issue event. We lose volume, develop wrinkles, accumulate sun damage, sometimes get "stuck" in habitual facial expressions (frowning, squinting, etc.) and experience tissue sagging.  No one treatment does it all, so having multiple resources at hand allows a full throttle approach to getting our faces looking better and better with each component treatment.  All of the above treatments can be "layered" to achieve maximum anti-aging results.