As we age so does the look of our skin.  Texture, wrinkles and dry patches are concerns for many of us.
Skin texture includes pore size, dry patchy areas, dull skin that is lacking a healthy glow, looks pale, thin or wrinkly, or a very common concern about lines and wrinkles.
The health of the epidermis & stratum corneum (the outermost protective layer of our skin) says a lot about the overall health of not only our skin, but our body as well. Our skin really takes a beating in the extreme climate we live in.  Now is a great time to think about a little rejuvenation and regrowth.
With just a bit of care, you can have healthy, glowing skin too!
SKIN TEXTURE CONCERNS AND TREATMENTS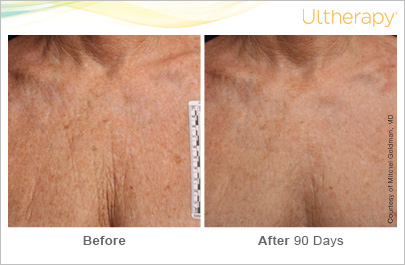 Skin Texture, whether on your face or body can tell a story of lifetime abuse or a picture of youth!
ENLARGED PORES & THICK OILY SKIN
Dermal planing which refines pores & exfoliates the skin
Needling refines pores & overall skin texture
Acid treatments
Price depends if treatments are layered or alone
THIN, DELICATE, TISSUE LIKE SKIN
Needling with growth factor serums and/or your own platelet rich plasma (PRP) promotes collagen induction and helps thicken the skin
FINE LINES AND WRINKLES
Ultherapy 1.55 mm treatment softens lines and promotes firmness
Fillers injected into superficial lines help them disappear, only certain fillers are appropriate for this procedure
Needling promotes collagen production and regeneration of tissue
Botox injections in strategic points help reduce the formation of lines
DRY CRUSTY SKIN PATCHES
Actinic Keratosis (AK's) are rough scaly patches of skin resulting from excessive exposure to ultraviolet (UV) light such as sunlight. These are precancerous lesions that won't go away and if left untreated, may progress to squamous cell carcinoma, a type of skin cancer.
NEW!! Levulan & Blue Light Therapy (PDT)
This treatment is covered by Medicare and many other insurance companies.
ACNE SCARRING
NDYAG laser treatments reduce and/or eliminates acne breakouts, the first step before addressing the resulting scars
Needling & acid treatments promotes scar remodeling
FURTHER EXPLANATIONS FOR SOME OF THE ABOVE TREATMENTS…
Ultherapy
The 1.5 mm treatment is great for more superficial skin improvements. This treatment partnered with needling will treat the skin from the inside and out! The 1.5 mm treatment can also be added with no minimum time frame after the deeper Ultherapy treatment which lifts & firms. Minimal to no downtime, possible swelling or redness.
Botox
Usually takes 7-14 days to become effective, lasts an average of 3 – 4 months. Minimal downtime, minor bruising rarely occurs…I use the AccuVein device to locate veins & capillaries to avoid bruising.  It's like x-ray vision!
Fillers
Are immediate satisfaction and can last anywhere from 6-12 months. Minimal downtime, sometimes minor bruising occurs. I use a blunt-tipped cannula whenever possible to minimize tissue trauma which alleviates swelling and bruising.
Derma planing, needling, and acid treatments
Are done every 1-4 weeks with a series of 4-6 treatments depending on severity. Minimal to moderate downtime, depends if done individually or layered with each other.
NEW!! Levulan & PDT (photodynamic therapy with blue light or IPL)
Usually takes 1-6 visits every two months depending on severity of actinic keratosis.. Downtime again depends on severity of condition, skin may be red and flaky for a few days after.
Please call me if you have any questions or would like a free consultation.
Call Evelyn at 951-236-6245 for an appointment today!
Aesthetics by Evelyn: evelynbeaman@gmail.com